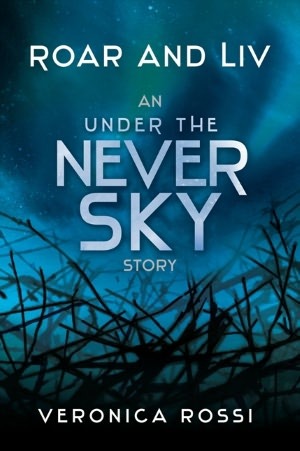 ISBN:
9780062239556
Source:
Purchased
Format:
Kindle eBook
Series:
Under the Never Sky #0.5
Released:
October, 2012
Length:
68 pp
Goodreads

|

Amazon
SUMMARY
After a childhood spent wandering the borderlands, Roar finally feels like he has a home with the Tides. His best friend Perry is like a brother to him, and Perry's sister, Liv, is the love of his life. But Perry and Liv's unpredictable older brother, Vale, is the Blood Lord of the Tides, and he has never looked kindly on Roar and Liv's union. Normally, Roar couldn't care less about Vale's opinion. But with food running low and conditions worsening every day, Vale's leadership is more vital—and more brutal—than ever. Desperate to protect his tribe, Vale makes a decision that will shatter the life Roar knew and change the fate of the Tides forever.
ISBN:
9780062305442
Source:
Purchased
Format:
Kindle eBook
Series:
Under the Never Sky #2.5
Released:
November, 2013
Length:
82 pp
Goodreads

|

Amazon
SUMMARY
The only fight she can't win is the one for Perry's heart. Following the stunning climax in Through the Ever Night, the Tides have been forced to seek shelter from the Aether storms in a dismal, secluded cave. But Brooke's memories of the cave go back much further, to when she and Perry used to come here together. That was before Perry fell in love with Aria and before Vale's dealings with the Dwellers altered the course of the Tides forever.
Now, with her sister back from a haunting year in captivity and Aria lying unconscious in the sick bay, Brooke struggles to put the pieces of her life back together. Without Perry, who is she? And what is her role in this frightening new world? As these questions swirl about her, an old threat to the Tides resurfaces, and Brooke is forced to put the lives of her people before her own. But in taking this step outside of herself, Brooke may finally discover what she truly wants.
MINI REVIEWS
*Please note, these mini-reviews do contain spoilers for the previous books in the series. Click here for a spoiler free review of book 1, Under the Never Sky*
ROAR AND LIV
Roar and Liv
is a novella that takes place right before the happenings in
Under the Never sky
. In
UNS
we hear a lot about this mysterious Liv, but we don't know much. Instantly when reading the novella, I loved her. I loved her and Roar together and her and Perry's relationship. The actual story told in this novella basically tore me apart, in case you were wondering.
I'm not a big fan of novellas. Often times I don't feel as though they actually add anything to the story (except in the case of the novellas for Throne of Glass. That is the absolute exception to the rule), but I had been enjoying this series well enough and felt like I needed to know more about Roar's love. My only complaint is that I wish it was longer, but I suppose that defeats the purpose of a novella.
Roar and Liv
, in its short 60-something pages, wrecked me, and it was definitely one of the best novellas I've ever read. It actually added something to the story that was definitely necessary.
BROOKE
I don't think I'm the only person who couldn't have cared less about Brooke in
UNS
. Actually, I kind of despised her, just on principle. She hated on Aria for no rational reasons other than jealousy and "heartbreak" that Aria herself did not cause. I didn't fly through this novella like I did with the last. It was actually really slow going and annoying and I had to force myself to get through it.
By the end, I didn't necessarily hate Brooke anymore, and the conclusion to the novella was pretty adorbs, but I in no way suddenly decided Brooke was great or felt like I understood her. I felt
bad
for her - what girl hasn't had their heart broken? I empathized a bit, yes - if I was in a similar situation, I don't think I would necessarily
like
my ex's new girlfriend, but Brooke was downright nasty to Aria and by the end of this novella I had not forgiven her for that.
I also didn't think
Brooke
added anything to the series as a whole like the
Roar and Liv
one did. Like I said - I'm not big on novellas to begin with and this one kind of reminded me why. It was good, but I definitely didn't need to read it, and realize that it was a bit of a waste of time. She totally could've written about someone way better - specifically, Cinder. Because all I want is to know more about Cinder!!!
RATINGS
Roar and Liv: ★★★★★ - Absolutely Loved It!
Brooke: ★★★ 1/2 - Liked it
A.