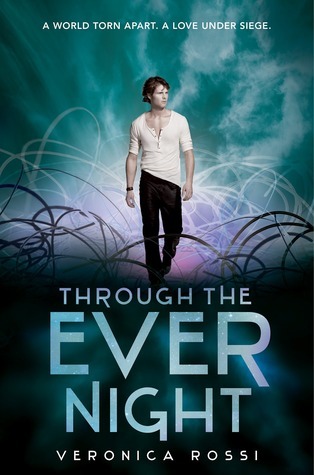 ISBN:
9780062247100
Source:
Purchased
Format:
Paperback
Series:
Under the Never Sky #2
Released:
January, 2013
Goodreads
|
B&N
*Please note, this review may contain spoilers for the first book in the series. Click here for a spoiler-free review of Under the Never Sky*
SUMMARY:
It's been months since Aria learned of her mother's death.

Months since Perry became Blood Lord of the Tides, and months since Aria last saw him.
Now Aria and Perry are about to be reunited. It's a moment they've been longing for with countless expectations. And it's a moment that lives up to all of them. At least, at first.
Then it slips away. The Tides don't take kindly to former Dwellers like Aria. And the tribe is swirling out of Perry's control. With the Aether storms worsening every day, the only remaining hope for peace and safety is the Still Blue. But does this haven truly exist? Threatened by false friends and powerful temptations, Aria and Perry wonder, Can their love survive through the ever night?
REVIEW
If I'm being totally honest,
Under the Never Sky
, the first book in this trilogy, blew my mind a little. I was so excited to continue with the series after reading it. While I did really like
Through the Ever Night
, it didn't quite live up to how I felt for
UNS
.
The odd thing is,
TEN
was so much more emotional, raw and gritty and it really was a good story. It more or less ripped my heart out and tore it into a million pieces. My problem lies in the fact that I wanted to see more of the Realms. Obviously, I know that the whole point is that the Realms could never compare to real like, but I just wishhhhh we got to see me. It really is a fascinating concept.
My other issue was the world building. It didn't go as far as I felt like I needed it to go. I wanted to know more about how the world got into the state it was in, more about the tribes, more about
other
tribes. Rossi gave us just enough to get by on but I was craving more.
The story otherwise was fast-paced, emotionally taxing and get me on the edge of my seat. Things definitely weren't going the way I
wanted
them to go, but of course I would've settled for a happily ever after right after the first book finished, so I'm probably not the best judge of that. Though it didn't live up to
UNS
standards, I did enjoy it and was eager to begin book 3 which was just released early this year. (Thank God I waited to read it. I don't know if I could've waited).
RATING:
★★★★
-
Enjoyed it!
I enjoyed
Through the Ever Night
a lot, except for the world-building being a little weak, and not as much expansion on the Realms aspect as I would've liked. It did, however, send me on an emotional roller coaster and I had a hard time picking up the pieces of my broken heart when it was over.
Have you read
Through the Ever Night
yet? What did you think? Did you love it as much as the first one or did you think it suffered a bit from second-book-syndrome?
Let's talk books!
A.