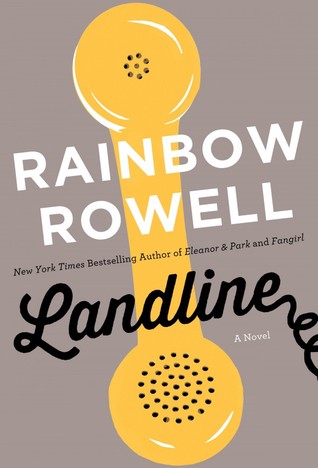 ISBN:
9781250049377
Source:
Purchased
Format:
Hardcover (signed by Rainbow herself!)
Series:
No, Stand-Alone
Released:
July 8, 2014
Goodreads
|
B&N
SUMMARY
Georgie McCool knows her marriage is in trouble. That it's been in trouble for a long time. She still loves her husband, Neal, and Neal still loves her, deeply — but that almost seems besides the point now.
Maybe that was always besides the point.
Two days before they're supposed to visit Neal's family in Omaha for Christmas, Georgie tells Neal that she can't go. She's a TV writer, and something's come up on her show; she has to stay in Los Angeles. She knows that Neal will be upset with her — Neal is always a little upset with Georgie — but she doesn't expect to him to pack up the kids and go home without her.
When her husband and the kids leave for the airport, Georgie wonders if she's finally done it. If she's ruined everything.
That night, Georgie discovers a way to communicate with Neal in the past. It's not time travel, not exactly, but she feels like she's been given an opportunity to fix her marriage before it starts . . .
Is that what she's supposed to do?
Or would Georgie and Neal be better off if their marriage never happened?
REVIEW
Reviewing a Rainbow Rowell book seems almost pointless by now. After this fourth book,
Landline
, we've all kind of figured out that Rainbow can do no wrong. She's a literary genius. She writes unique yet
real
stories about people we come to love, and she has managed to make me feel something different for each book -
Attachments:
happiness, contentment;
E&P:
absolute devastation;
Fangirl
: like I'd found my soul-book. And now with
Landline,
it's mostly left me pensive, with a tiny bit of heartache and happiness mixed together.
I was as big of an emotional mess throughout this book as Georgie was which made it that much better for me. I felt like I understood so much of Georgie's feelings but at the same time, she taught me so much, too.
I'm getting married soon and it was a little scary thinking about being married as long as Georgie and Neal have been. Georgie says at one point during the book, "
You don't know at 23.
" Basically saying that it's impossible to know what you're getting into, what your life/marriage is going to be like in five years, ten, fifteen. But reading this book gave me a very different perspective. Even through their struggles, I found Georgie and Neal's story (from very beginning of their relationship to the end of the book) to be beautiful and inspiring.
Most of all, what I love about
Landline
and all of her other books, Rainbow makes me feel like it's okay to not be perfect - physically, mentally, emotionally. I, along with the majority of the female (and some male) population, struggle with self-confidence and accepting the fact that we're not all going to be skinny and tall and blonde and beautiful. Not that those things are bad, but Rainbow's characters make me feel like I can love and be loved and do things I love and do them well without looking like what society says is perfect.
On a much less sappy note, I adore Rainbow's writing style and I
LOVE
all of the HP references in this book (and some of her others). I went to her book release in Manhattan on July 8 and she said that "Harry Potter made this book," referencing, I think, some inspirations and fun things she used while writing the story. Needless to say, the HP references cemented my love for
Landline
, as if I needed anything to cement it anyway.
RATING -
★★★★
★
-
Loved it!
Landline was one of my most anticipated reads this year and it didn't disappoint. Definitely one of the best books I've read so far and another fantastic novel to add to repertoire. It made me laugh and cry, but most of all it made me think and that's something I really love in a book. I can't wait to see what she comes up with next!
"Pretty soon she'd have been with Neal longer than she'd been without him. She'd known herself as his wife better than she'd ever known herself as anyone else."
"She thought of all the times he'd stayed up late to help her with a script. The way he'd lived at her right hand after Alice was born (when Georgie was depressed and in pain and terrible at breastfeeding). The way he never made her feel crazy even when she was acting crazy, and never made her feel like a failure even when she was failing."
"Georgie hadn't known back the how much she was going to come to need Neal, how he was going to become like air to her. Was that codependence? Or was it just marriage?"
"'It's not like that,' Georgie said. 'You'll see. It's more like you meet someone, and you fall in love, and you hope that that person is the one - and then at some point, you have to put down your chips. You just have to make the commitment and hope that you're right.'"
Have you read Landline yet? Was it everything you ever dreamed of? 'Cause it sure was for me! I loved this book and I can't wait to talk about it with you!
A.