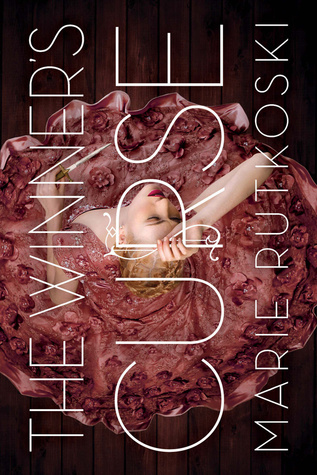 ISBN:
9780374384685
Source:
Purchased
Format:
Hardcover
Series:
The Winner's Trilogy #1
Released:
March, 2014
Goodreads
|

Book Depository
SUMMARY

Winning what you want may cost you everything you love.
As a general's daughter in a vast empire that revels in war and enslaves those it conquers, seventeen-year-old Kestrel has two choices: she can join the military or get married. But Kestrel has other intentions.
One day, she is startled to find a kindred spirit in a young slave up for auction. Arin's eyes seem to defy everything and everyone. Following her instinct, Kestrel buys him—with unexpected consequences. It's not long before she has to hide her growing love for Arin.
But he, too, has a secret, and Kestrel quickly learns that the price she paid for a fellow human is much higher than she ever could have imagined.
Set in a richly imagined new world, The Winner's Curse by Marie Rutkoski is a story of deadly games where everything is at stake, and the gamble is whether you will keep your head or lose your heart.
I am always a bit wary picking up a book by a new author I've never heard of, mainly one who has just published their first book and where there isn't much information from my list of trusted bloggers to go on. I know, I know, I'm one hell of a book snob, but I try my best not to be since I am also an aspiring author (oh, the irony, right?). Anyway, I finally ended up ordering this book once I started seeing some opinions and reviews (glowing ones) from people I knew and I had to see what it was all about. However, I didn't have high expectations going into it. I had no idea what I was getting into, really.
The Winner's Curse starts off rather slowly. Actually, the majority of the book happens at a nice leisurely pace. Some have thought it was too slow. I thought it was perfect. It was like a slow build to a wonderfully smart, incredibly satisfying climax. I remember realizing that The Winner's Curse had drawn me in right from page one and kept me hooked throughout, rather than it having to be something I had to get into. Rutkoski's writing is beautiful and she weaves a story about love, loyalty and morality (I love a book that makes you think past the romance) that I just didn't want to stop reading. The love story between Kestrel, the main character, and Arin, the slave, had me grinning like a fool, though, when things finally took off and I have no complaints as to how it all went down, slow or not.

I will say I was particularly pleased that while Rutkoski did leave us on a bit of a cliffhanger, she didn't end the book where I expected she would, where most books would have left off and left the rest for book two. The expected things happened then, much to my delight, Rutkoski had more to add to the story!

I especially loved when the power and the "upper hand" shifted between the characters. Once again Rutkoski went against what I assumed she was going to do with the story and I enjoyed that the love of the characters didn't just disappear (or pretend to disappear) when the circumstances changed. It wasn't an insta-love in the begining or an insta-un-love at the end and that made me really happy. I hope that made sense to someone other than me, but if it didn't, you'll understand at least that this book gave me major feels and this nonsensical review is what resulted.

I tend to like books that have a fast pace or pick up speed not far into the book but I found that the beautiful, lyrical quality of the writing and having my interest piqued by the characters and world-building right away made the pace not matter to me much at all. I found a taste for slow-building novels in The Winner's Curse thanks to the author. I can't wait to read the next in the series to learn more about Arin and Kestrel!
RATING:
★★★★
1/2 -
Loved it!

Overall, I really loved The Winner's Curse. It was slower than the typical YA novels I read but I also found it to be one of the smarter, better written, more thought-provoking YA novels I've read, too. Arin and Kestrel are a favorite romantic couple of mine and I can't wait to see where the next book in the series takes us! Have you read The Winner's Curse? What did you think?

Do you like books that have a "slow-build" quality to them or a faster-paced novel? I thought I once only like fast-paced novels but The Winner's Curse seems to have changed my mind about that a bit - or at least proven me wrong. I'd love to know what you prefer.

Let's talk books!
A.