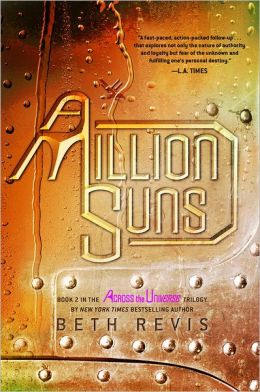 ISBN:
9781595145376
Publisher:
Penguin Group [USA] Inc.
Release date:
January, 2012
Series:
Across the Universe #2
Page Count:
416 pages
GOODREADS SYNOPSIS:
GODSPEED WAS FUELED BY LIES. NOW IT IS RULED BY CHAOS.
It's been three months since Amy was unplugged. The life she always knew is over. Everywhere she looks, she sees the walls of the spaceship Godspeed. But there may just be hope: Elder has assumed leadership of the ship. He's finally free to act on his vision--no more Phydus, no more lies. But when Elder learns shocking news, he and Amy must race to discover the truth behind life on Godspeed, all the while dealing with the love that's growing between them and the chaos that threatens to tear them apart.
Beth Revis catapulted readers into the far reaches of space with her New York Times bestselling debut, Across the Universe. In A Million Suns, Beth deepens the mystery with action, suspense, romance, and deep philosophical questions. And this time it all builds to one mind-bending conclusion: THEY HAVE TO GET OFF THIS SHIP.
*If you havent read the first book in this trilogy, do not read this review. It contains spoilers for Across the Universe. For a spoiler-free review of AtU, click here*
Writing, characters, world building, plot, general everything - still amazing.
Slightly more romance in this second installment, though the book still definitely didnt need it to be awesome.
In my opinion, Elder developed a lot and slowly changed from a rebellious teenager into a true leader.
Revis still kept throwing curveballs at me and though this one was slightly more predictable than the last, I was still blown away by certain things.
It wasnt until this second installment that they finally addressed Amy almost being raped by Luthor and the impact it had on her. It was a severely traumatizing event that was largely ignored after the initial reactions. I will say that I think when it was finally addressed, the reactions and thoughts were probably accurate, though.
A little bit slower than the last book, but maybe this was because the shocks were fewer and less mind-blowing (thank God).
THOUGHTS:
I started this book the day after I finished
Across the Universe
and I was dying to read it, then I finished it in three days, which is unusual for me lately. I was not disappointed! I loved this sequel, though it did move slightly slower than the first book and was somewhat more predictable, it was interesting, filled with mystery, further building of the world known as
Godspeed
and general craziness. I dont think I have a lot to say about this book other than I loved it!
RATING:
★
★
★
★
1/2
4 1/2 stars for this one! I loved it and it added so much to the trilogy! I've already started reading Shades of Earth and I cant wait to find out what happens on Centauri-Earth!
Have any of you read this one or Across the Universe? What did you think? Agree or disagree?
A.