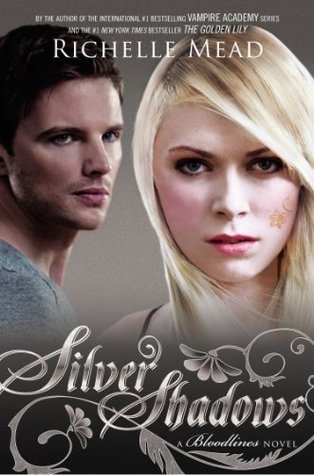 ISBN:

9781595143211

Format:

Hardcover

Source:

Purchased

Series:

Bloodlines #5

Released:

July 29, 2014

Length:

380 pp

Goodreads

| B&N

SUMMARY
In The Fiery Heart, Sydney risked everything to follow her gut, walking a dangerous line to keep her feelings hidden from the Alchemists.
Now in the aftermath of an event that ripped their world apart, Sydney and Adrian struggle to pick up the pieces and find their way back to each other. But first, they have to survive.

For Sydney, trapped and surrounded by adversaries, life becomes a daily struggle to hold on to her identity and the memories of those she loves. Meanwhile, Adrian clings to hope in the face of those who tell him Sydney is a lost cause, but the battle proves daunting as old demons and new temptations begin to seize hold of him. . . .
REVIEW
Whew. I just finished reading
Silver Shadows
. And when I mean just - I mean
just,
like five minutes ago finished reading
Silver Shadows
. I had to get my thoughts and feelings out immediately, and posting it on GR to leave for later blog post was just not going to cut it.
I've been waiting for this book to release since March of this year when I finished
The Fiery Heart
which KILLED ME. That book straight up murdered me and I needed this book to put me back together. When I started reading it, I couldn't believe how hard it was for me to get into it. The only Richelle Mead books I've ever read that I didn't
really, really
like were the first to Vampire Academy books.
But
that's not to say I was a stranger to her slow start and bangin-ass finish - it's kind of her MO.
It was definitely tough for me though, considering it'd been months since my last book in the series and it took about 40% in for things to heat up. Adrian is obviously miserable with Sydney missing - I get that. But he was so annoying and childish and basically reverted back to all the old ways he kept in
VA
which is when I truly disliked him. After finishing the book, I can obviously see why it happened and was necessary but boy it took me a good week to finally sink my teeth into this book.
Once things turned around.... I can't even begin to tell you the emotions I experienced at the hands of
Silver Shadows
. I think I've mentioned in past Mead reviews that she is the queen of action. I haven't read an action scene of hers that I wasn't hooked on. Well just know, the second half of the book is pure
action
and I couldn't put it down after that!
I'll admit Mead did her usual info-dumping in the beginning but I'm so used to it, I kind of rolled my eyes and skimmed it, but luckily it didn't take up much time. Also, there were a few times that the dialogue seemed a bit more stiff than usual for Mead... and there were a few convenient loop holes and abilities that allowed things to happen a little too easily.
With that being said, I'm way too invested in this series to even care.
Silver Shadows
topped everything for me (except for
Fiery Heart
because that's where Sydrian really took off) and some
amazinggggg
things happened that I obviously can't tell you.
We're also left with one hell of a cliff hanger that, oddly enough, I did not see coming at all. After I finished, I felt like I should've seen it coming but I didn't and now I'm pissed because I have to wait until February until the final book,
The Ruby Circle
come out. I'm going to go cry under a rock until then. See ya.
THE BREAKDOWN
RATING:
★★★★
1/2

- Really enjoyed it!
After waiting months for
Silver Shadows
to release, it was everything I wanted and more! Mead had her standards: a slow start and some classic info-dumping in the beginning but once she turned up the heat, I couldn't pull myself away!
She adds more and more to the world with each book and I can't even begin to talk about how much I
love
almost every single character in the series. Needless to say, it was another amazing addition to
Bloodlines
by Mead and now I've got to wait 6 more months until the finale releases.
Can I just say that there better be another spinoff? If I don't get like a Jill/Eddie or Olive/Neil or Nina/Somebody. Or Angeline! OMG or Marcus/Can't say who! OMG I just got so excited when I thought of Marcus and she-who-must-not-be-named!!! I need another spinoff! For those of you who've read it, you know who I mean right? This one fits best if she's going to write any more - you
know
it would be another amazing series, yes?
Anyhow, have you read
Silver Shadows
yet? What did you think? If you're a fan like me, chances are you loved it, but I'm intrigued to know if anyone
didn't
love it. Can't wait to hear from you!!
A.