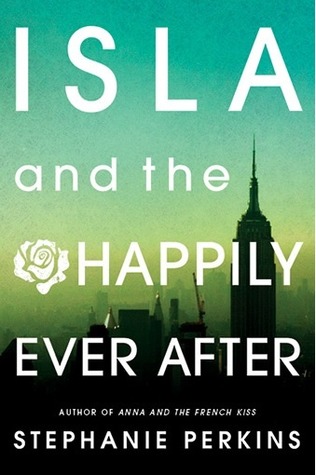 ISBN:
9780525425632
Format:
Hardcover
Source:
Purchased
Series:
Anna and the French Kiss #3
Released:
August 14, 2014
Length:
339 pp
Goodreads
|
B&N
SUMMARY
From the glittering streets of Manhattan to the moonlit rooftops of Paris, falling in love is easy for hopeless dreamer Isla and introspective artist Josh. But as they begin their senior year in France, Isla and Josh are quickly forced to confront the heartbreaking reality that happily-ever-afters aren't always forever.
Their romantic journey is skillfully intertwined with those of beloved couples Anna and Étienne and Lola and Cricket, whose paths are destined to collide in a sweeping finale certain to please fans old and new.
REVIEW
Check out my status updates down there. There a was whole lot of OMG-ing while I read this book. both out of swoon and heartbreak and what the frig, oh and one tiny moment of Harry Potter. I'd been waiting for ages to get my paws on this book, along with the rest of you I imagine.
Anna and the French Kiss
was one of my absolute favorite books last year.
Lola
... eh not so much a favorite but a good addition to the
Anna
world. I think I just liked being in Paris :)
Isla
starts out kind of the opposite of
Anna
and
Lola
. In
Isla
things are pretty freaking awesome at first: funny, interesting, swoony. Then of course, as you can tell by my updates, eventually things take a turn for the worse. This book built me up and broke me down like no other.
I've had this weird problem where I've barely been able to cry at anything - sad, happy, real life, fiction. My eyes sometimes get a little wet but nothing has been able to move me to actual tears - until
Lola
. I cried pissed off, furious, heartbroken tears and a few ridiculously happy ones. Stephanie Perkins fixed my tear ducts! Or my heart! Or both! She's a miracle worker!
As always, Perkins' writing is impeccable, and she's so funny I can't even stand it. She makes me feel like I'm in Paris, in this world, in love all over again. I re-read
Anna
before I read
Isla
and tried to pay particular attention to Josh and even though I always liked him and thought he was amusing, broody little guy he was, I never knew he could do the things he did to my heart.
Alright, I'm past the point of being able to write a rational review. I'm full of too much swoon. I'll just say that
Isla
was PERFECT and it was everything I wanted and then some (especially at the end there OMGGG!!) and I really wish Perkins would just continue writing about these characters.
THE BREAKDOWN
RATING:
★★★★★
- Absolutely Loved it!
Since I have nothing coherent to say about this book: I will just remind you how much I loved it. It was amazing and perfect in every way. It was everything I wanted from a finale to a much loved series and more. I just have one thing to mention: can we petition to get Meredith her own story? Please. I just love her and I want to watch her fall in love too. In ROME!
What did you guys think of Isla? I loved her, I loved Josh, I loved Paris, I loved everything. I see a lot of people didn't like it because it was centered around a lot of teenage "drama" but I thought that was perfect because I know I was dramatic as hell when I was their age and I really,
really
identified with the characters in this story. I'd love to know what you thought!
A.