It's Waiting on Wednesday hosted by Jill at
Breaking the Spine
and W.W.W. Wednesday hosted by
Should Be Reading.
First thing's first: what am I waiting on? Can I be honest here and say I have NO IDEA! I've been out of the blogging/reading world for a while and I feel like I just dont know what's going on. The only thing I'm excited about is for
Hana, Annabel and Raven
by Lauren Oliver to come out in paperback. This was one that was only available by e-book, and though
I have a kindle, I dont really use it. I know, it seems sounter-intuitive to not use something I have to read something I want. But I own
Delirium
and
Pandemonium
and I plan on purchasing
Requiem
so it only seems right to complete the collection.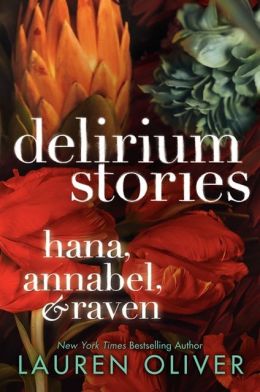 Delirium Stories: Hana, Annabel and Raven
by Lauren Oliver
Publisher:
HarperCollins Publishers
Publication date:
3/5/2013
Its also W.W.W. Wednesday, where you share what you've recently read, what you're currently reading, and what you plan to read next.
I'm currently finishing up

Beautiful Creatures

by Kami Garcia and Margaret Stohl. Should hopefully be done with it today and will be posting a review some time this weekend,a nd hopefully going to see the movie next week!

By today I will be reading

City of Lost Souls

by Cassandra Clare. I hate to say this but I don't really feel like reading this right now, but I have goals to accomplish and series to finish. This is the closest I will come to wrapping up a series since the next book has not been released. Im going to try to read it as quickly as humanly possible so I can move on to something else.

After City of Lost Souls I am either going to read Pandemonium

by Lauren Oliver or

Fever by Lauren Destefano. I cant decide which I want to read more, but I'm currently leaning toward Pandemonium, another that I want to wrap up as soon as the next is released. We shall see.
What are your Waiting on and W.W.W. picks this week? Mine are starting to get old cause I dont get through books fast enough. I've been reading BC for over a week now, ugh.
Happy Reading!
A.