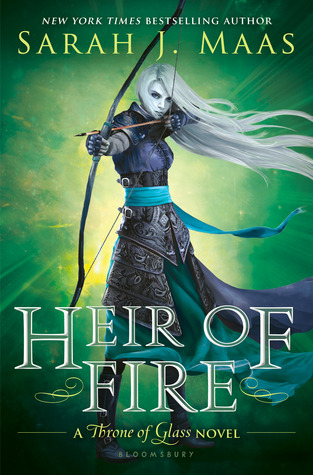 ISBN:
9781619630659
Format:
Hardcover
Source:
Purchased
Series:
Throne of Glass #3
Released:
September 2, 2014
Length:
565
Goodreads
| B&N
SUMMARY
Lost and broken, Celaena Sardothien's only thought is to avenge the savage death of her dearest friend: as the King of Adarlan's Assassin, she is bound to serve this tyrant, but he will pay for what he did. Any hope Celaena has of destroying the king lies in answers to be found in Wendlyn. Sacrificing his future, Chaol, the Captain of the King's Guard, has sent Celaena there to protect her, but her darkest demons lay in that same place. If she can overcome them, she will be Adarlan's biggest threat – and his own toughest enemy.

While Celaena learns of her true destiny, and the eyes of Erilea are on Wendlyn, a brutal and beastly force is preparing to take to the skies. Will Celaena find the strength not only to win her own battles, but to fight a war that could pit her loyalties to her own people against those she has grown to love?
REVIEW
I went into this book definitely feeling afraid of what was to come. I
loved
Crown of Midnight
so much. I knew I would love
Heir of Fire
too, because Sarah J. Maas is a genius and this series is a new favorite of mine, so that isn't why I was afraid. I'd seen a lot of posts about new characters, intense feels, being utterly ripped apart over and over again, etc. You can see why I had some reservations. Not to mention this is a beast of a book. I love myself a good long book but I always know it's going to take me a while to get into it, especially when it's something I'm really in to.
Heir of Fire
definitely did take a day or two for me to get in to. It's a slower start. Celaena is unhappy. Actually, unhappy is the understatement of the century. Celaena is utterly broken, and though it takes quite a while, we journey with Celaena through every bit of her broken heart, soul and spirit. Sometimes slower paced books are not for me. I loved it in
HoF
, though. Every last word devoted to Celaena's pain, healing, gaining of power, etc., was worth it. It was necessary, even if it tore me apart while I was reading it. Maas writes pain like no other.
New characters: there are some. Are you surprised? This is one of the best epic fantasies I've ever gotten my hands on, incredibly in depth, so you can imagine how many characters we have to deal with here. There is Rowan, likely the most important of the new characters. You've probably heard/seen tons of people shipping Rowan/Celaena, and I know what you're thinking. You're probably thinking the same thing I was thinking when going into this. HELL NO, NO ROWAN NONSENSE CHAOLAENA FOR LIFE! I was adamantly against any other ships for Celaena. Don't worry, things don't go as you would expect in this area and it is perfect and wonderful, and for Chaol/Celaena shippers, you'll find yourself rooting for Rowan in a few different ways even if you think there is only room for Chaol in your heart. Trust me, I'm still team Chaol.... but I wouldn't be mad if something took a turn in a future book and it didn't go that way. As a matter of fact, I have some speculations. Not really educated guesses, just regular old guesses - things I suspect could happen... if you've read all of the books, send me a private message. We can discuss all of the horrible (and wonderful) things that could happen!
There was also Manon, a POV from a not so nice person - a witch. I won't go into much detail, but I will say this: Maas, you are a genius. How do you make me interested and even feel FEELS for evil people? HOW!? Some may have thought this POV was pointless, but I get the feeling it will be very important in the rest of the series. I have high hopes for this POV actually.
This world, this story, everything in it is so detailed, so many nuances and "storylines" to remember that all wrap into one amazing ball of brilliance. And Maas keeps adding more and I'm almost inclined to wonder how the hell this is all going to work out and tie together but the thing is is already does! Every aspect of every book matters. I remember when I read
ToG
, thinking that the whole magic aspect seemed out of place. I take nothing for granted in this series now. Nothing is out of place.
Nothing.
HoF
wrecked
me, by the way. I cried like a baby for Celaena, for Dorian, for Chaol, for Rowan. But I also cheered for them, grinned like a fool, laughed like a loon. Maas knows how to write characters we will love (or hate, but in that she-writes-really-good-villians kind of way) so, so much, and I can't even fathom having to let one of them go, because we all know that there will be someone, if not multiple more someones, who don't make it out of this alive. Listen, I'm still mourning over Sam and he was only around for a few short stories.
I feel like it is impossible to not like this series. The only book I can see not liking is
ToG
, but if you trust me, if you trust the rest of the bookish world,
CoM
and
HoF
(oh and
Assassin's Blade
) will change that for you. It will change everything for you.
THE BREAKDOWN
RATING:
★★★★
1/2
- Really enjoyed it!
I loved
Heir of Fire
so much! It added so much to the world, a world that I didn't think could expand that much more,
and
I get the feeling Maas is going to give us even more come the next book somehow (which by the way we have to wait God knows how long for and it is killing me).
I know most of you loved this book. I've seen your reviews and status updates. I now this one killed you inside also. But I have so many thoughts on what could possibly be coming and I want to talk to
someone
about it without worrying about spoiling. I want to know what you thought, but I also want to know what you think is coming!
Also, can we talk about how excited I am for the other series Maas has coming out next year -
A Court of Thorns and Roses
?! A Beauty and the Beast retelling! God, I can't wait!!
So tell me your thoughts on all things Sarah J. Maas. Go!
A.